Check engine lights always cause a little panic. Reasons for the light turning on can range from something minor like a loose gas cap to something more serious like a faulty catalytic converter or internal engine failure. Ignoring the problem can turn a potentially quick fix into a costly and time-consuming repair. Don't hesitate, call Accuracy Automotive today and our ASE certified mechanics will accurately diagnose the issue and let you know what is needed to have your engine running it's best, and in some cases running again. We look forward to taking care of you. Please give us a call today!
all engine repairs made by ase certified mechanics
high-quality, affordable Engine repair
Here are just a few reasons our customers choose Accuracy Automotive as their go-to engine mechanic:
Certifications (ASE)
The mechanics at Accuracy Automotive are certified by the National Institute for Automotive Service Excellence ASE). ensuring that they have the expertise to perform quality work on your vehicle.
experienced Engine repairs
It is important to make sure the mechanic you choose has up-to-date training and the right equipment to work on your specific make of vehicle. Accuracy Automotive has nearly 20 years experience repairing engines for all types of vehicles and all makes and models.
Warranty
A full warranty on all repairs gives you confidence that you will be covered if problems occur after repair procedures are complete. Accuracy Automotive guarantees it's work and all of the parts we used to repair your car.
Affordable Repairs
Accuracy Automotive is your best local alternative to repairs done by the dealership. We are certified to quickly and accurately diagnose the problem and provide you with a repair cost estimate that typically will save you time and money as opposed to taking your car to the dealer.
"Excellent service! Took my car here to replace the battery and fix other problems, everyone here was very professional and friendly. They did not try to find imaginary problems with car so they could charge me more. The price was fair but most importantly my car runs great! I will be coming back! Thank you!"
-Jess
"I've had Accuracy do my repairs for years. They are fast, honest and fair. When you find a good mechanic, it's hard to trust my vehicles to anyone else."
-Kelly Peterson
"Absolutely great service! Super friendly people. They are very thorough with their services! They will have you back in the road in a jiff!"
-David
"Had a great experience using Accuracy – quick, responsive service and felt the pricing was reasonable and fair. Nice guys that do great work. I'm definitely recommending to others." 
-Stormed Blessed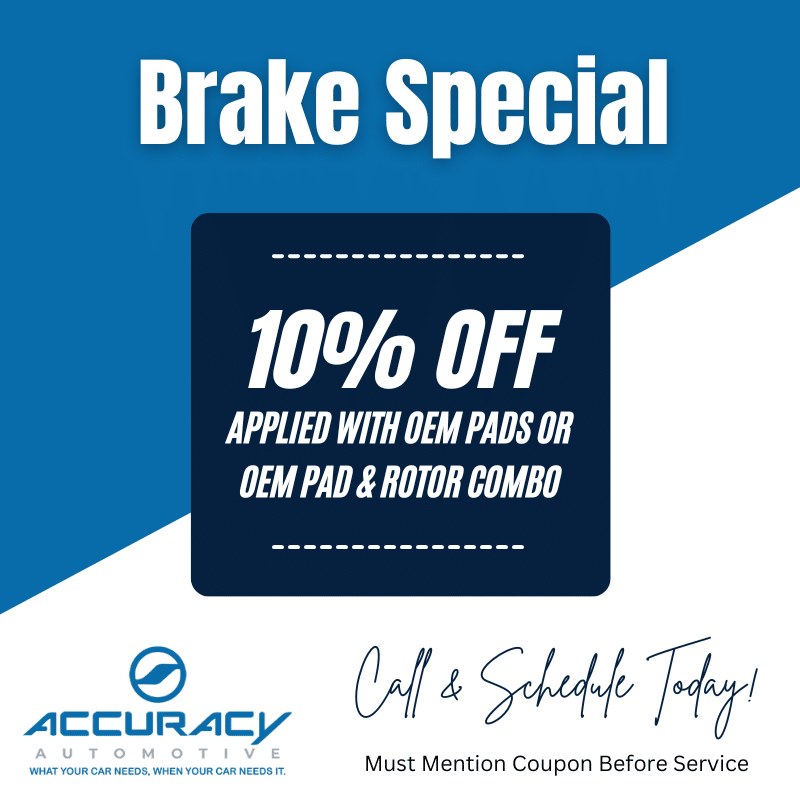 our comprehensive Warranty
At Accuracy Automotive we stand behind all of our repairs with a 12 Month/12,000 Mile warranty on labor, and a limited lifetime warranty on the parts we use. For more information on the services we provide and how we can help you, please contact us today!